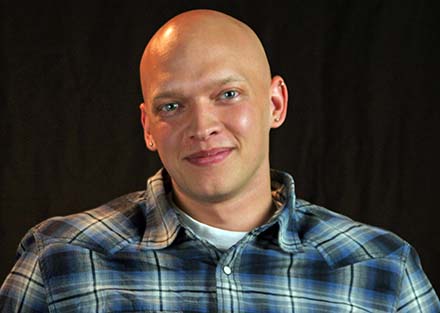 I was born in a small Nebraska town, but spent the next 17 years of my life in Hays, Kan.
In 2001, I moved to Manhattan to attend Kansas State University.
Originally I was majoring in computer science, but a few boring classes and bad grades later, I was studying print journalism.
In 2006, I graduated with a Bachelor of Arts in Print Journalism and Mass Communications. (I decided foreign language classes were much more interesting than math.)
Although I had a legitimate interest in magazine writing and design, websites were always the source of my passion. Over the years I've had several different iterations of websites, including a once-very popular Jamie Pressly fansite.
Currently, I'm a senior front-end developer at K-State's Office of Mediated Education.
Having dealt with too many table-based websites to count, I have become very interested in web standards and am an espouser of accessibility compliance.
When I'm not behind a computer screen, I like to be pretty active.
I have a first degree black belt in Songahm Taekwondo.
I started tumbling because I wanted to trick (think martial arts version of breakdancing); I stuck with tumbling but not with Taekwondo. But now I can do a round off back handspring, nbd. (I often, maybe too often, speak like a teenage girl.)
I spend quite a bit of time in the gym lifting weights…now if only I could keep my diet in check. Fast food is just too damn convenient.
I love riding my motorcycle. I overthink things, like all the time, so riding is pretty therapeutic for me.
I love all types of music, and spend most of my day (especially at work) listening to music. I maintain a very popular Billboard Hot 100 list on Rdio.
Although I like dogs, I am a cat-person and currently have a cat befitting her name – Ninja.
Colophon
The site is built using web standards, and should validate as HTML5, although I will not guarantee that every page validates…so get off my back.
This site is powered by WordPress, which will eventually be replaced by Django.
Although this is a personal website, I try to ensure maximum accessibility.
If you'd like to find out more about the site's style choices, then check out the style guide.